MODULAR
The EverBlock® system is modular, which means you start with as many blocks as you need and can later add to your creations.  
Easily reconfigure, transport, and re-assemble your designs in minutes and re-use blocks for all types of projects. 
Each module is designed to connect easily with the parts above and below, using a pressure fit which creates a strong link between blocks. Because of its unique lug system, you can stagger EverBlocks in 3″ increments, to create all types of patterns.
Each block is hollow, but contains support ribs for additional strength and to provide a tight  fit with the connector lugs below. 
Choose between different sized blocks and finishing caps, as well as 15 standard colors, to create objects for all types of uses.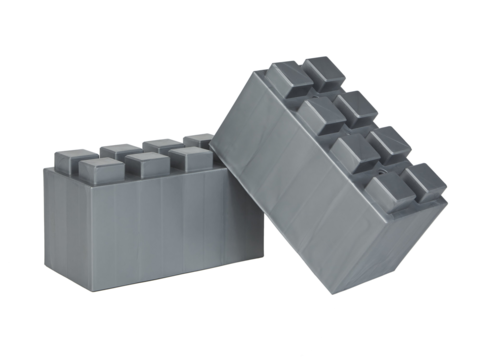 EverBlock features a practical proportional geometric shape of 2:1:1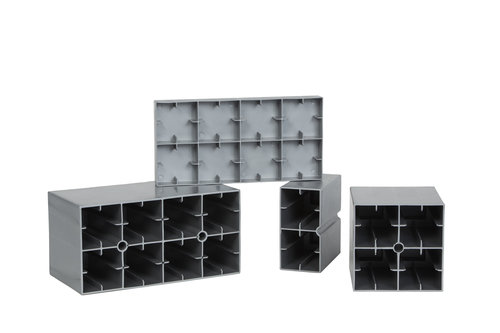 The underside contains bi-lateral support ribbing for added strength and durability.
SPECIFICATIONS
MODULE SIZES & WEIGHTS:
Full-size block: 12″L x 6″W x 6″H (+1″ for lugs) – 2.3 lbs.
Half-size block: 6″L x 6″W x 6″H (+1″ for lugs) – 1.1 lb. 
Quarter-size block: 3″L x 6″W x 6″H (+1″ for lugs) – 0.6 lb.
Finishing cap block: 12″L x 6″W x 1.1″H  – 0.3 lb.
Accessory Sizes and Weights:
24″ Shelf: 24″L x 12″W x 1″H – 3.6 lbs.
36″ Shelf: 36″L x 12″W x 1″H – 6.5 lbs. 
48″ Desk Top: 48″L x 24″W x 1″H  – 16 lbs.
48″ Lintel/Shelf: 48″L x 6″W x 1″H – 7 lbs.
Metric Sizes:
Full-size block: 30.48cm (Long) x 15.24cm (Wide) x 15.24cm (High) (+2.54cm for lugs) – 1kg  
Half-size block: 15.24cm (Long) x  15.24cm (Wide) x 15.24cm (High) (+2.54cm for lugs) – 0.45kg 
Quarter-size block: 7.62cm (Long) x 15.24cm (Wide) x 15.24cm (High) (+2.54cm for lugs) – 0.23kg
Finishing cap block: 30.48cm (Long) x 15.24 (Wide)  x 2.8cm (High)  – 0.11kg
24″ Shelf: 60.96cm (Long) x 30.48cm (Wide) x 2.54cm (High) – 1.63kg
36″ Shelf: 91.44cm (Long) x 30.48cm (Wide) x 2.54cm (High) – 2.95kg
48″ Desk Top: 121.92cm (Long) x 60.96cm (Wide) x 2.54cm (High)  – 7.26kg
48″ Lintel/Shelf: 121.92cm (Long) x 15.24cm (Wide) x 2.54cm (High) – 3.18kg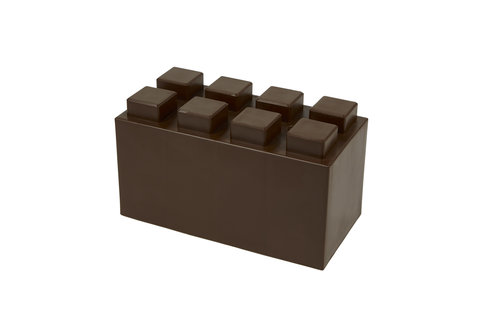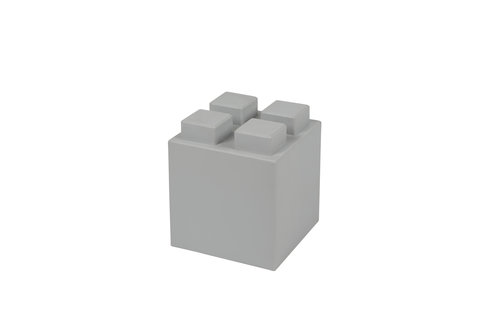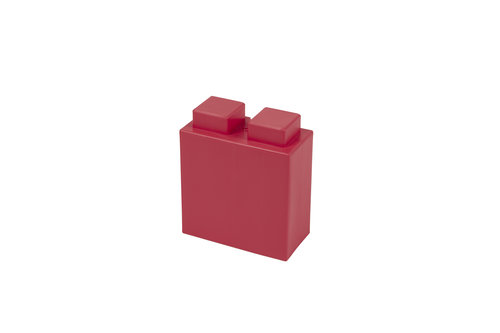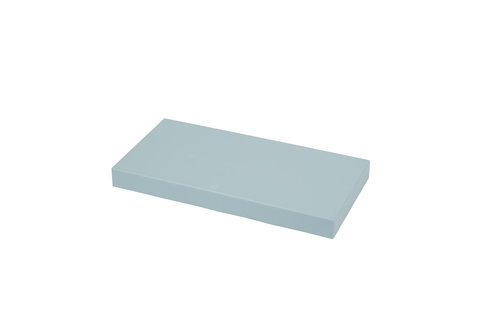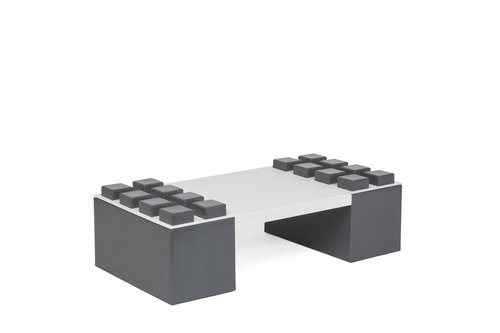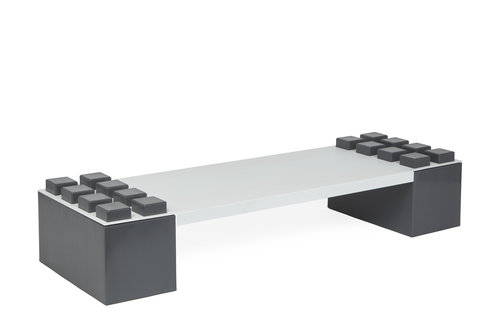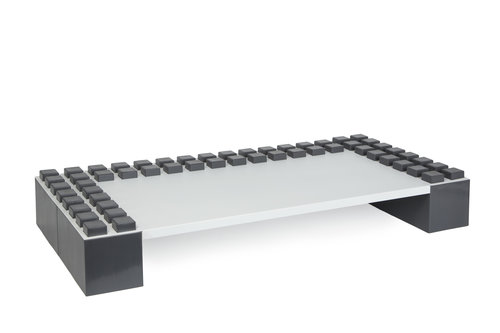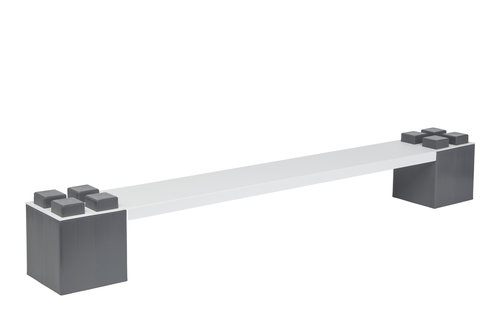 MATERIAL:         
Hi-Impact Polypropylene Co-Polymer ("no-break") with UV Inhibitors added for outdoor use.  
EverBlock® is recyclable.
FIRE RATING: 
UL94HB (Underwriters laboratory Yellow Card Number): signifying that EverBlock material embodies a slow burn rate of 2" per minute for a 2" wide by 0.5" in thickness test sample.  Furthermore, UL94HB signifies that the material will not flare up when exposed to an open flame.
 Hot wire ignition rating: 3
Click HERE for formal test report
R-VALUE:
R-Value for full and half blocks is estimated at R-2 based on six inches of air space, two exterior walls, and one interior ribs. Note: This is for individual blocks and complete wall values may vary based on pattern and arrangement of blocks.
UNIQUE PRODUCT FEATURES
Finishing Caps Create A Flat Top Surface
If you are looking for a smooth top surface for a table, countertop, or just to beautify your construction, our EverBlock® Caps will cover the connector lugs and create a smooth top surface. Connector caps are available in all standard colors and you can match or compliment the colors of your construction.   Caps may be cut to half and quarter size using a simple hack saw.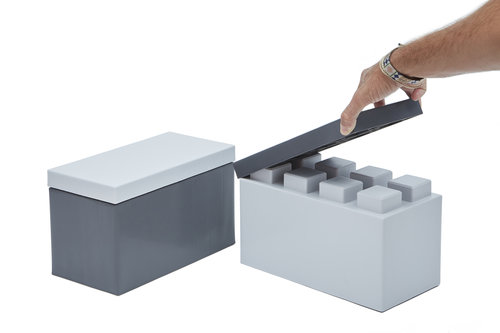 Add finishing caps to cover connector lugs for a smooth top surface look
Blocks Contain Integrated Cable Channels
Each 12″ EverBlock contains 2 cable channels that allows you to run power cables, create illumination with LED lighting strips,  or stabilize larger creations.  6″ EverBlock's contain one channel that aligns with one of the 12″ blocks channels. Even when 12″ blocks are staggered, the thru-channels align, so that cables can be run.  Holes are 0.5″ in diameter and can accommodate most conduit and cabling.  Translucent white blocks are available, allowing you to create incredible lighting effects.  
Quarter blocks also contains notches to accommodate cabling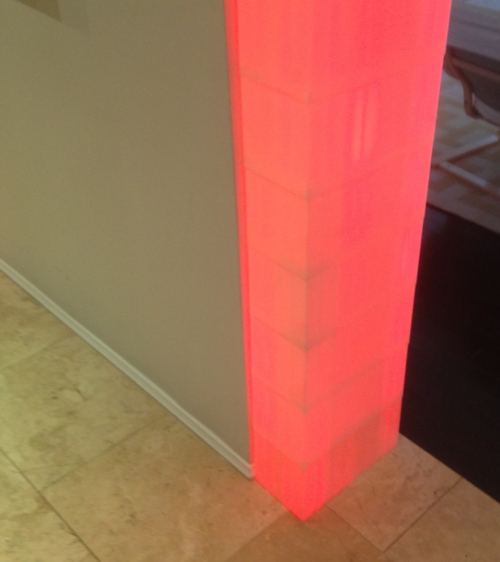 Create amazing effects by illuminating EverBlocks 
Additional Structural Support Can Be Added
EverBlock's integrated 1/2″ cable channel also accommodates the EverBlock connector pin, a plastic reinforcement pin that provides additional stability and strength to structures.  
Standard sized metal re-bar, wood dowels or PVC rod, may also be used to provide additional support, lock blocks together, and to anchor blocks to the ground.
This reinforcement method is ideal for larger construction projects, where there are taller or longer walls that need support.
Reinforcement pins or rods may also be used when there is a need for blocks to support additional weight (such as trusses or cross beams).
You can also add reinforcement pins to furniture, event decor,  props,  and other objects that need to be transported in one section.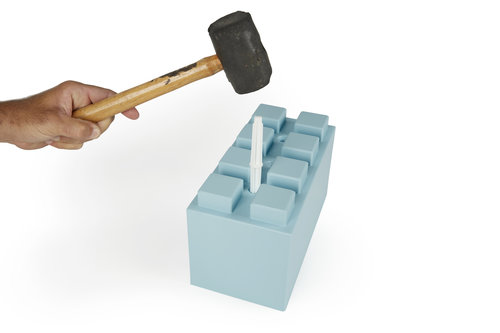 Use the EverBlock reinforcement pin to provide semi-permanent locking strength between blocks to reinforce your structure.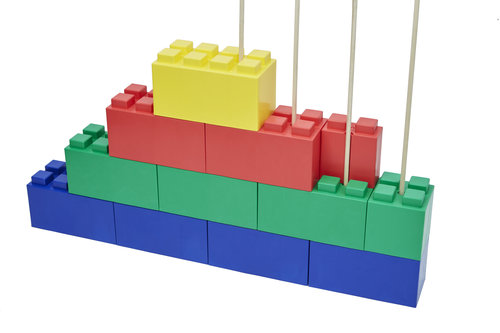 Insert 1/2″ wooden dowels to lock blocks together and provide additional support
Shelving, DeskTops, and Doorway Lintels Slot Into Place
Add EverBlock® shelving and desktops in various sizes to complement your constructions and create amazing desks, shelving units, displays, and other designs. 
Shelving has pre-cut holes and is designed to nest over the EverBlock connector lugs and facilitate easy and secure installation, without tools.
Add EverBlock Lintel pieces to support blocks above doorways, windows, and other openings.
Shelving comes in 24″x12″, 36″x12″, 72″x12″ (2- 36″ pieces) and 48″x6″ lengths and can be used in combination with each other.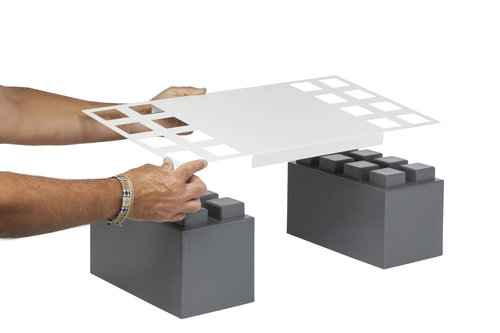 EverBlock Shelving  and Desktops slot neatly over blocks.
DURABLE, STABLE, WATERPROOF, AND EASY TO CLEAN
EverBlock modules are water and chemical resistant and can stand up to abuse. Use them indoors or outdoors and in wet or dry environments. 
EverBlocks are manufactured using a durable, high-quality, polypropylene co-polymer and as such can handle the the stresses of repetitive use.   This material is non-absorbent, easily cleaned, and won't leach harmful chemicals.
All EverBlock modules contain UV inhibitors to prevent fading in sunlight and meet UL94HB, flammability standards.
Internal cross-ribbing provides additional weight loading capabilities and support.
How stable is an EverBlock construction?
See the video on the left of a magnitude 6 and then a magnitude 7 earthquake test conducted by a client in Japan.
EASILY TRANSPORTABLE
Smaller shipments may be sent with small package parcel services such as UPS or FedEx. 
For larger shipments, EverBlock® modules stack neatly on pallets and can be shipped compactly via LTL (less than truckload), standard trucks, or overseas shipping containers. 
Stack 24 blocks per row (4 blocks x 6 blocks) on traditional 40″x48″ pallets, up to 12 rows high (72″), for a total of 288 blocks per standard pallet (Weight 674lbs).  In some situations pallets can be loaded with an additional row for 312 Blocks (78″ H).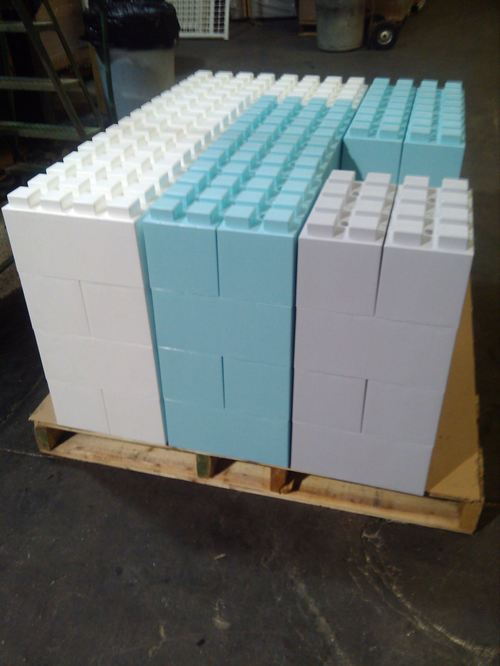 Modular blocks stack neatly on pallets for easy transport and storage
No Tools, Glue, or Material Handling Equipment Is
Required to Build Structures of Nearly Any Size