EverBlock 1 and EverBlock 2 are ideal for use as game courts for basketball, volleyball, badminton and more. 
The simple interlock methodology, durable construction, color options, and realistic wood-grain finish of the EverBlock module all contribute to making EverBlock the perfect choice for your next sports court. 
Most importantly, EverBlock flooring offers a realistic ball bounce and uniform play due to the bi-directional cross ribbing, arched underside, and co-polymer plastic construction. 
USE AT:
Schools
Municipal Gyms
Churches and Houses of Worship
Event Centers
Childcare facilities
Convention Centers
Home Game Courts
MULTIPLE GAME COURT COLORS AND STYLES
Alternate colors as needed to match team colors or facility decor and create unique patterns. Surround wood grain courts or multi-colored courts with an outside-the-free-throw-line perimeter, perhaps in a different solid color. 
Choose between Light Wood Plank, Light Wood Parquet, Pink, Purple, White, Red, Blue, Light Grey, Black, Light Blue, Green, Dark Grey, Brown, Orange, Yellow*
*Custom colors available at a small up-charge for full basketball court installations. 
EASY TO INSTALL AND REMOVE
EverBlock sports flooring tiles are easy to install, remove, transport and store, yet may be installed permanently. Tiles come pre-assembled in easy-to-handle 3ft x 3ft sections that can be stacked and stored when not in use.  For permanent installations, EverBlock Flooring is installed over a thin recycled rubber underlayment, which helps dampen sound and improves ball bounce and play.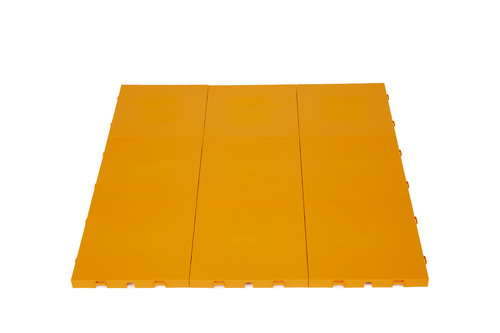 Sections come pre-assembled in 3ft x 3ft or 3ft x 4ft sheets
3ft sections snap together easily, using EverBlock's proprietary step-and-lock system, which allows sections to connect using a simple step or other downward pressure. 
Once connected, EverBlock is a seamless professional-grade sports flooring system that can handle the rigors of intensive play. 
Break down sections by simply tipping them at a 45% angle until they disconnect, to transport  floor sections between venues or for storage until later use. 
DURABLE AND EASY TO CLEAN AND MAINTAIN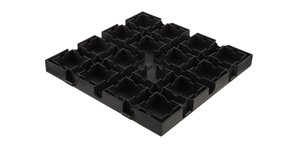 Structural support ribs improve strength and contribute to realistic ball bounce
EverBlock Dance is manufactured using durable high-impact Polypropylene plastic, and incorporates structural cross ribbing that provides incredible strength, rigidity, and torsional stability.
EverBlock Dance flooring can handle not-only the weight of players, but also of equipment such as staging, AV equipment, speakers, and more, which may be used during assemblies. 
Floors can be cleaned using mops and standard household cleaning supplies and individual 1ft x 1ft or 18″ x 24″ sections can easily be replaced if damaged. 
SUPERIOR, PROFESSIONAL FEEL UNDERFOOT
EverBlock provides a smooth surface suitable for professional level play, though is not slippery under foot..   The torsional rigidity provided by the cross-ribs provides a stable feeling underfoot, while the rigid connection provided by locking system prevents sections from sliding or separating during aggressive play. 
The added thickness of the EverBlock Floor module provide a richness that other floors don't offer and a more robust "feel".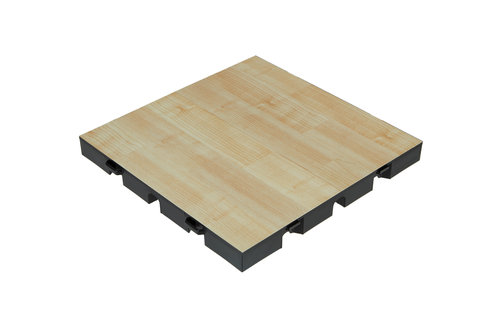 TRANSITION EDGES PROVIDE A GRADUAL TRANSITION FROM THE GROUND BELOW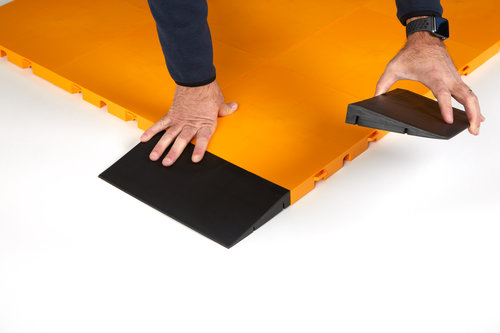 The EverBlock System features a snap on transition edge piece, which provides for a gradual transition from the floor below.  
Use edging at entry and exit points or wherever traffic is expected. 
Modular edging pieces are available in Male, Female and Corner edge sections. 
INTERCONNECTS WITH OTHER EVERBLOCK FLOORING VERSIONS FOR A FULLY INTEGRATED FLOOR
EverBlock Floors connect with each other,  enabling you to build a complete contiguous floor in multiple styles. For example, connect an EverBlock wood grain finish floor within other  EverBlock versions, such as a solid team color, to create a beautiful look. 
Choose from 16 standard colors and 6 wood grain finishes. 
Utilize our EverBlock 3D virtual designer to visualize your floor in advance, allowing you to experiment with color, layout, and design, until you achieve your desired modular dance floor goal.