Tent Flooring / Event Flooring
SUITABLE PRODUCT: EVERBLOCK 2-DT, EVERBLOCK 2-ST, EVERBLOCK 1-DT, EVERBLOCK 1-ST, EVERBLOCK DANCE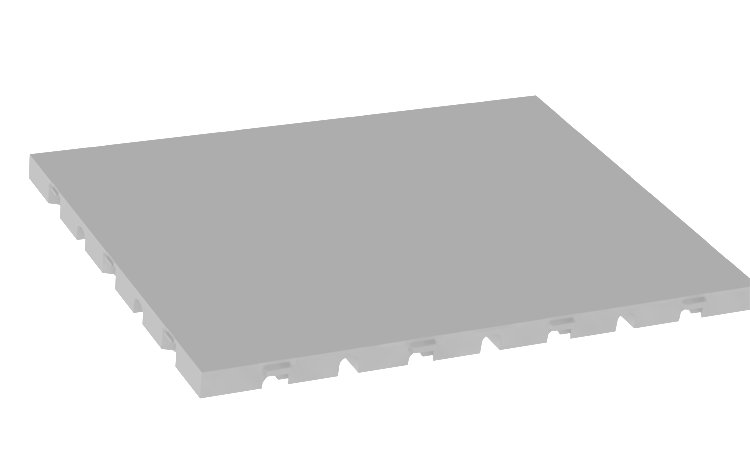 TENT FLOORING FOR EVENTS AND INDUSTRIAL NEEDS
EverBlock tent flooring is ideal for corporate, residential, and industrial tents and shelters.
Our modular flooring sections transport efficiently on pallets and deploy quickly without tools or material handling equipment.
Unlike other interlocking flooring systems,  EverBlock tent flooring is a SYSTEM, meaning it integrates with other versions of EverBlock flooring as well as with EverBlock building blocks.
This versatility allows for previously unimaginable combinations – tent floors with inlaid dance floors, with raised floors for runways and staging, all integrated with walls and more…..  No other system provides such ease of use, combined with the incredible versatility of EverBlock Flooring.
Additionally, EverBlock tiles offer a finished floor look, meaning you don't have to cover the floor with carpet to hide an industrial look.   Our connectors are hidden from view, meaning that all you see is a crisp, clean, event-worthy look.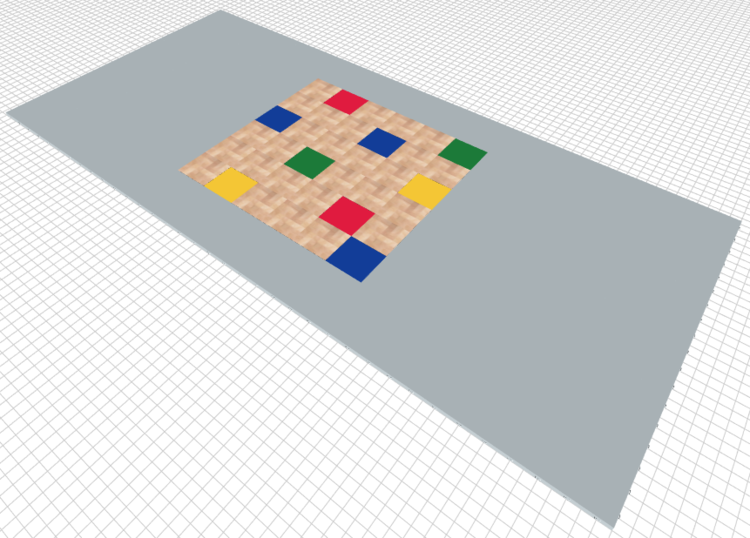 EverBlock is the only tent floor that lets you alternate sizes, versions, colors, and wood finishes within the SAME floor, providing the ultimate in design flexibility. Mix drainage and non drainage tiles, wood and non wood tiles, and 12″ x 12″ and 18″ x 24″ tiles on the same project.
USE EVERBLOCK FLOORING FOR TENTS NEARLY ANYWHERE
EverBlock flooring is durable and can handle typical ground variation and undulation common in backyards, parks and fairgrounds, and installs well over grass, gravel, sand, mud and asphalt.
Blocks are completely chemical and water resistant and can be used in wet environments continuously. Once installed, EverBlock tent floors lets water drain and flow underneath, providing a stable surface and keeping your guests dry and out of the water and mud.
With EverBlock you keep your attendees dry, safe, and elevated, while at the same time protecting the sub-surface from damage due to high-traffic.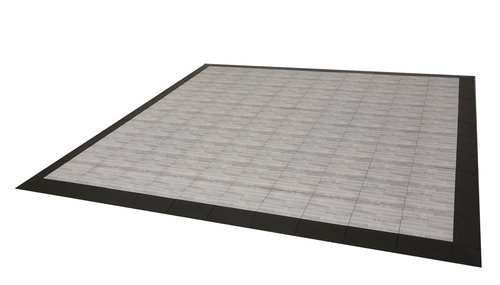 USE FOR:
Trade Show Booths
Outdoor Exhibits
Exhibition Booths
Museum Displays
Retail Displays
Concession Kiosks
Experiential Exhibits
Brand Activations
PREVENT DAMAGE TO GRASS AND GROUND SURFACES
Because of EverBlock's unique, structural cross-ribbing system, it will distribute weight effectively and protect natural and synthetic grass from damage as a result of foot traffic and the weight of event equipment such as bars, furniture, golf carts and Gators.
Use EverBlock interlocking tent flooring to protect the grass inside dining, kitchen, and event tents for large or small-scale functions. Use as pathways between tents and over varying and undulating ground.
EverBlock tent floors will protect your clients valuable lawns, parks, sports fields, and grounds against wear and tear and prevent damage from pedestrians, golf carts, and rolling equipment.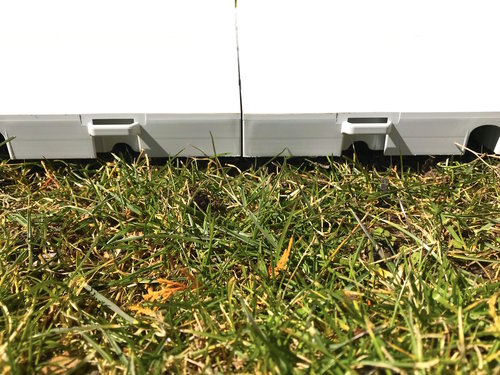 Protect grass lawns from damage during events
ALTERNATE TILE COLORS, STAGGER SECTIONS, OR USE OUR VINYL LAMINATE TILES FOR A MORE FINISHED LOOK
Use our vinyl laminate tiles to create a black, white, or wood grain look for dance floors, general event floors, or for more elegant affairs. Mix and match standard EverBlock colors to match corporate or event colors and themes and to create unique decorative designs and patterns.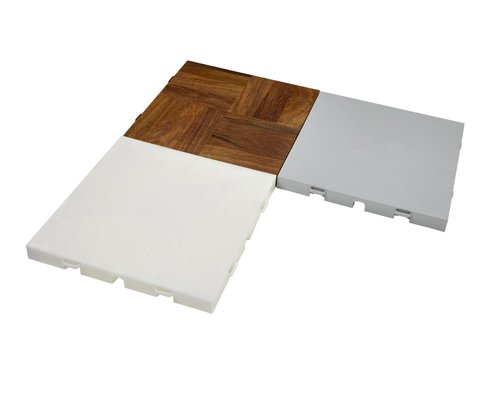 Mix and match colors, surfaces, and sizes
For a more finished look, carpet may be laid on top of EverBlock tent flooring and can even be taped or stapled to the floor, should this be desired.
You can even utilize the EverBlock Dance Floor, in conjunction with a solid colored EverBlock floor  and mix and match wood patterns with solid colors, as needed, creating stunning designs.
Imagine a crisp, clean tent floor with a fully integrated and inlaid wooden dance floor and a raised matching staging system.
RUN ELECTRICAL CHORDS UNDERNEATH EVERBLOCK FLOORING
Run electrical and communication cables underneath EverBlock for tent lighting, exhibits, and other in-tent needs, using the integrate cable channels running through all tiles.
Run power to center poles for lights or along the side for trade show exhibits and other needs.
Easily access cables by removing tent floor sections when cables are required and allow the cables to be brought to the surface.
You can even run LED lighting underneath translucent flooring to create an ethereal look, alternating colors and patterns at your event.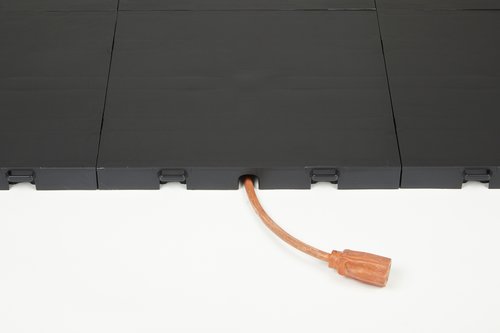 WORK AROUND OBSTACLES AND FOLLOW UNIQUE SITE PLANS
Remove and stagger the modular EverBlock flooring sections to fit around tent poles, or to accommodate unique site obstacles, such as fences, landscaping features, or immovable structures.
EverBlock tent floor will follow the contour of undulating floors while still providing a uniform and solid surface for walking, dancing, and more.
RAPIDLY INSTALL AND REMOVE TENT FLOORING FOR QUICK SITE TURN-OVER
EverBlock transports in 3ft x 4ft panels, allowing for rapid installation by a minimal crew. A 20×20 tent floor can be installed by 2 people in about 15 minutes.
Flooring modules connect in a matrix, creating a seamless tent floor that is both attractive and safe for attendees.
Due to EverBlock's unique connector design, sections can be nudged by foot into their connection position and then snapped into place with a simple step.  This speeds installation and improves worker safety.
To remove sections, simply lift EverBlock up at an angle, disengaging the tent floor panels for transport and further use.   A simple broom handle or pole can be used to elevate sections to the right angle for detachment and will speed the breakdown of flooring sections.
TRANSITION EDGING FINISHES YOUR TENT FLOOR AND PROVIDES A SAFE TRANSITION FROM THE GROUND LEVEL BELOW
EverBlock transition edge pieces snap onto the ends of flooring sections, providing a finished look and a gradual transition from the surface below.
When properly installed, EverBlock meets ADA requirements and may be used to provide accessibility over varying ground surfaces.
Edging is available in Male, Female, and Corner versions.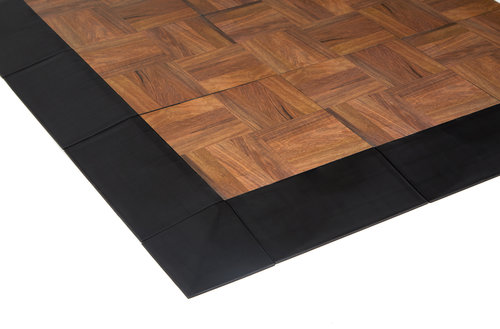 Transition edging works on all versions of our flooring and is ideal for tent floors at events.
EVERBLOCK TENT FLOORS WORK WITH OUR EVERBLOCK BUILDING BLOCKS
EverBlock Flooring works with our standard EverBlock building block system, allowing you to create walls and dividers, event décor, and event furniture such as seating, bars, and catering stations.
EverBlock and EverBlock flooring together function as a complete event decor building system for all types of tent and event uses and may be reconfigured each time, depending on the needs of the specific event.
RAISE FLOORING ON BLOCKS TO CREATE ELEVATED FLOORS AND STAGES
EverBlock floors are designs to nest securely on top of EverBlock building blocks, allowing you to create multi-level risers, stages, podiums, and raised floor areas for a variety of applications.  We offer standard floor elevation packages and can help you design your own raised tent floor or stage at various sizes, shapes and heights, and in various colors.
EVERBLOCK STYLES USED FOR TENT FLOORING: